---
PTK-7609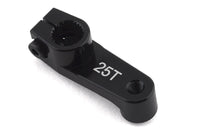 ProTek RC Associated B6.4 Aluminum Clamping Servo Horn (25T-Futaba/Savox/ProTek)
ProTek
The ProTek R/C Associated B6 Aluminum Clamping Servo Horn is an updated horn that features a 2mm taller ball stud standoff, compared to the previous ProTek Team Associated servo horn. This horn is machined from a solid block of aluminum alloy and anodized black. The horn has been machined to the exact specifications of the plastic Team Associated ASC91728 servo horn, but provides the precision, rigidity and durability required for the latest generation of high-performance R/C vehicles. Plus, the horn only weighs two grams and provides the security of a clamping design, ensuring the horn remains in place when the retainer screw comes loose.
Features:
Direct replacement for ASC91728
Fits Team Associated B6 series off-road vehicles
Clamping design
Weighs only 2 grams
25T Spline Output Shaft
Note: Due to manufacturer tolerances, this servo horn may be a tight fit with certain servo brands.
Team Associated RC10 B4 OriginalTeam Associated RC10 B4.1Team Associated RC10 B4.2Team Associated RC10 B44 OriginalTeam Associated RC10 B44.1Team Associated RC10 B44.2Team Associated RC10 B44.3Team Associated RC10 B5 OriginalTeam Associated RC10 B5MTeam Associated RC10 B5M Factory LiteTeam Associated RC10 B64DTeam Associated RC10 GT OriginalTeam Associated RC10 GT2Team Associated RC10 SC5MTeam Associated RC10 SC6.1Team Associated RC10 T4 OriginalTeam Associated RC10 T4.1Team Associated RC10 T4.2Team Associated RC10 T5MTeam Associated RC10 T6.1Team Associated RC10B6 OriginalTeam Associated RC10B6.1Team Associated RC10B6.1DTeam Associated RC10B6.2Team Associated RC10B6.2DTeam Associated RC10B6.3Team Associated RC10B6.3DTeam Associated RC10B6.4Team Associated RC10B6.4DTeam Associated RC10B6DTeam Associated SC10 OriginalTeam Associated SC10.2Team Associated SC10GTTeam Associated TC6.1