---
TP-VPM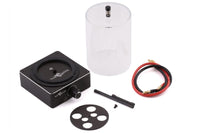 Team Powers Vacuum Pump Master
Team Powers
This is a Team Powers Vacuum Pump Master, a cool tool that looks like something you'd see in a science lab and makes any RC enthusiast feel like a pro. This compact vacuum chamber can easily fit on a work bench or table top and can be use to remove air bubbles from gear diffs and shock bodies, giving you the smoothest engagement possible. The chamber comes with an internal stand to that supports 1/10 and 1/8 scale shock bodies.
This vacuum chamber can also be use to speed up the tire additive treatment process for 1/12th, 1/10 foam or rubber tires. The chamber can fit a set of four tires for even quicker processing times. Adjustment is easy, just turn the power knob on the front to vary the vacuum pressure inside the cylinder.
Note: An alternative use for this handy tool is for the removal of air bubbles in molding applications. Bubbles can be drawn from liquid substances, if your resin or liquid polymer mold fits within the chamber dimensions.
Features:
Remove air bubbles inside the Gear Diff or Shock Absorber body.
1:10 or 1:8 Shock Absorber are compatible.
Speed up the tire additive treatment process for 1/12th, 1/10 foam tire or rubber tire.
With power knob to vary the vacuum pressure inside the cylinder container.
With air valve switch to release the air pressure.
Support 1s or 2s battery.
Specifications:
Chamber dimensions: 76.2x101.6mm